The RC program mission statement regarding diversity and inclusion:
The Appalachian State University General Education Rhetoric and Composition program utilizes current pedagogical practices that encourage students and faculty to undertake the serious work of critical thinking and reflection; research and evidenced interpretation; and knowledge production as we engage and create texts across multiple genres, disciplines, modes, and contexts. When grounded in rhetorical ethics, the study of literacies, rhetorics, and writing can empower students to be responsible and reflective local and global citizens. Recognizing that rhetorical awareness is essential to social justice, sustainability, and community engagement, we cultivate a spirit of equity, diversity, inclusion, and accessibility in the RC gen-ed program.

---
Labor-based Grading Workshop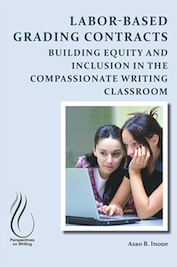 In Spring 2021, the RC Gen-Ed program is hosting a labor-based grading contracts book club and workshop centered on revising our assessment practices to incorporate labor-based contracts. Over four weeks faculty are meeting to discuss Labor-Based Grading Contracts: Building Equity and Inclusion in the Compassionate Writing Classroom and develop contracts and practices for current and future courses.
March 2021 Asao Inoue Keynote and Workshop