Faculty Resources
The Composition Program at Appalachian State is proud of the expert teaching of its faculty. In order to develop these attributes, we offer robust faculty development, teaching materials and support, peer mentoring groups to encourage reflective teaching, and strong collaborations between our faculty.
In line with the collaborative nature of our program, we would like for all faculty who have suggestions, additions or materials for these faculty resource pages to please send these to Jessie Blackburn (blackburnjb@appstate.edu) or Bethany Mannon (mannonbo@appstate.edu).
---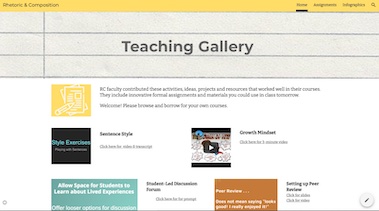 Teaching Gallery
We have created a Teaching Gallery with activities, assignments and resources that RC faculty developed.
You will need to be logged into your App State email to access the site. Then please feel free to browse and borrow!