Past RC Professional Development
The study of rhetoric is central to our discipline in the Composition Program. Though "rhetoric" is often referred to in negative ways—"mere rhetoric" or "political rhetoric"—its study is about more than just form. Rather, rhetorical study offers heuristics in which to create and reflect on thought, as well as analyses of the intimate connection between our language and our production of new knowledge (as well as our reproduction of that knowledge).
Our professional development aims to provide a space where faculty from across campus can convene and consider the ways that the study of rhetoric can enhance all of our own research, writing and pedagogy.
Spring 2021 Events
Reading Day Retreat
Hosts: Bethany Mannon and Jessie Blackburn
Thursday, 4/29
We'll debrief from our work during the 2020-2021 year, including our program's huge strides in anti-racist pedagogy, online writing instruction, and trauma-informed pedagogy. After these discussions, we'll set individual and program-wide goals for continuing these conversations and we'll plan for our return to the classroom in Fall 2021.



Past Events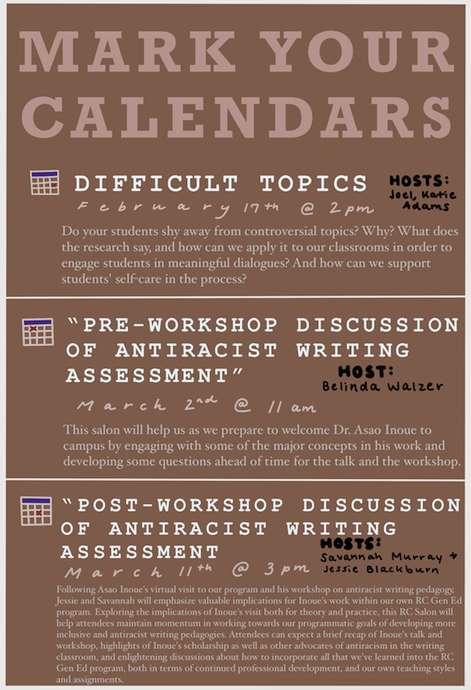 Humanizing Writing Instruction (Online and F2F)
Host: Kelly Terzaken
Tuesday, 3/23 at 12 pm

While this salon originally started out as one to discuss how we humanize online writing instruction, I thought it was a good idea to include F2F instruction, as well. We can't forget how to purposefully connect with students and create inclusive learning environments just because most of us will be going back to the classroom in the fall. Join this salon to share ideas and join in conversation about how to humanize writing instruction, no matter the modality.
Keynote and Faculty Workshop with Dr. Asao Inoue
March 10, 2021
Asao B. Inoue is Professor and the Associate Dean of Academic Affairs, Equity, and Inclusion for the College of Integrative Sciences and Arts at Arizona State University, and a leading scholar of Antiracist Pedagogy.
2018 Writing Studies Institute
The Rhetoric & Composition Program is excited to formally announce our 2018 Writing Studies Institute. The 2-day event on February 1 and 2will play host to three incredibly accomplished scholars in the field of rhet/comp: Kathleen Blake Yancey, Doug Downs, and David Jolliffe. Over these two days, we will be holding a variety of concurrent sessions centered on issues in teaching college writing at Appalachian State University. While many of the sessions will focus on composition pedagogy, we want to extend an invitation to the entire department, as an implicit theme running across our three keynote speakers involves the transfer of knowledge and the complex ways in which writing functions across many varied contexts.
We hope that you'll mark the dates in your calendar and join us for two days of presentations, roundtables, and discussions with some fantastic writer/scholars. Below is a copy of the official event flyer which is also posted around Sanford Hall. In short, we hope to see you there in February!
Click Here for Writing Studies Institute Flyer
11/10 APortfolio Brown Bag
(from Sarah Zurhellen)
Join us November 10 at 2pm in the 4th floor faculty lounge for our last APortfolio Brown Bag of the semester. We'll be discussing J. Elizabeth Clark's "From Selfies to Self-Representation in Electronically Mediated Communication: The Evolving Gestalt Effect in ePortfolios" (it's a quick read with some nice examples of transformation over time).
10/27 Workshop -- A Primer on Rhetoric: Epistemology, Absurdity, and Language
(from Bret Zawilski)
This Friday, October 27 at 2pm, you're invited to attend a workshop delving into the vast history of rhetorical theory. The goal is to go into extreme depth regarding 2500 years worth of scholarship...by addressing it in about 60 minutes.
In short, we'll be talking about some of the broader movements in rhetorical theory and how some of that baggage still applies and shapes modern rhetorical theory. While I have envisioned this as primarily an exploratory session designed to give you more insight to the kinds of rhetorical theory that might deeply interest you, the more pragmatic side will look at the ways in which this body of theory can also serve as a foundation for the kinds of courses we design.
So come join us in Sanford 402 on Friday, Oct 27 from roughly 2-3pm to chat about why Plato is a hypocrite, how Peter Ramus would have failed a research methods course, and why Kenneth Burke really likes to invent words on the fly.
Terminal Degree Workshop
(from Bret Zawilski)
On Friday, September 8 at 2 pm, Amy Hansen and I will be leading a workshop on applying to terminal degree programs (MFA/Ph.D.) in the University Writing Center. If you're thinking of embarking on this next academic adventure, we invite you to join us for discussion on compiling an academic dossier and strategies for tackling the most common application genres.
While this session is primarily designed for individuals with some graduate education (MAs or currently enrolled MA students), undergraduate students are also welcome to attend, as many of the suggestions regarding the dossier will be equally relevant.